Products
Summary | Probes | Probe Cards | Equipment | Accessories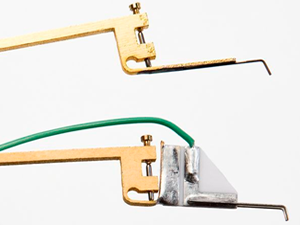 Z-Adjustable Probes
Accuprobe fixed pattern Z-adjustable probes are robust, long lasting precision probes that are intended for critical contact applications. These probes feature a unique Z adjustment capability that allows a probe card repair technician to precisely adjust the Z axis of the probes for optimum probe co-planarity. Precision adjustment is made easy with a convenient top mounted screw. Several probes styles are available including Kelvin and high-frequency probe types.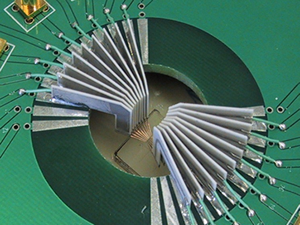 Ceramic Blade Probes
Ceramic blade solutions are used where high-frequency interfaces are required or where electrical isolation of the probe from the device under test is desirable. These blades provide superior mechanical and electrical properties and can achieve excellent results in high noise, low current, and high temperature probing applications. Accuprobe has a number of ceramic blade probe styles available off-the-shelf that can be mounted on a wide range of probe cards. Customers can also select from an extensive set of needle types and geometries to meet specific device testing requirements.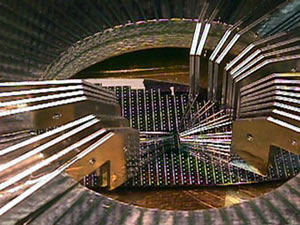 Metal Blade Probes
Accuprobe offers a wide selection of metal blade profiles for semiconductor, hybrid circuit and laser trim applications. Blade probes are compatible with most probe card assembly machines and provide a stable and repairable solution for device test. A wide array of needle styles and geometries can be mounted on these probes. Working depths from 144 mils to 1,080 mils are supported.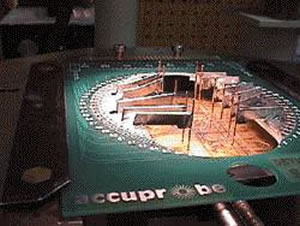 Blade Spring (pogo) Probes
Blade spring probes are complete probe assemblies consisting of a blade body with receptacle and a spring (pogo) probe inserted into the receptacle. These probes are ideal for thick film hybrid circuit test applications including laser trim. The metal blades can be bent to avoid resistors. The spring probes with probe heads can easily be replaced without soldering or removal of the probe blade from the probe card.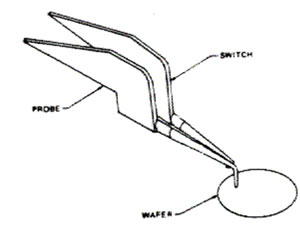 Probe Card Edge Sensors
Probe card edge sensors provide z axis position information to test applications. Accuprobe can supply a wide range of edge sensors based on z-adjustable or blade type probes. Standard and isolated versions are also available.